One tends to wonder (as it can be a daunting decision) as to who should be our hosting provider. Mind you, I have gone through some painful experiences working with different hosting providers all these years. Easy-to-follow tutorials with step-by-step instructions will make it a lot easier for you to create your WordPress and Woocommerce websites with Skystra Platform. What makes this even more outstanding is the reliability it offers. WordPress websites completely load on their platform in seconds, which gives a wonderful experience to the visitors that are on your website. There are other hosting providers I have come across over time where websites take up to 15 seconds to load, at Skystra websites load in 1 to 2 seconds. That is fast.
Whenever your website goes down regardless of whether it is due to a technical glitch or any other problem, it always affects the user experience. Business tends to suffer from constant downtime in the long run. Therefore, if you want to set up a website that you feel passionate about, you really need to find a host that provides you with premium service support and reliability.
Skystra is considered one of the best hosting providers and that is not only just my opinion but, similar opinions have been expressed by most of the other professionals in the market.
Now let me tell you some of the primary reasons that make Skystra a good choice as your web host.
Optimized WordPress
This host lets your WordPress website run on a highly optimized infrastructure, which is designed and built to provide an unparalleled fast-loading experience to all of your website visitors.
WordPress Themes
There are thousands of themes for you to choose from for your WordPress website which gives you extraordinary control over how your website looks. There are themes to choose from for bloggers, restaurants, various industries, and businesses. This makes all WordPress themes available for you to build your site.
You can select WordPress themes to build your website with Skystra
Zero Programming Skills
You are not required to have any knowledge of any programming skills or any coding knowledge. WordPress comes installed for you which means your website is always just a few clicks away.
SSL Certificates
All services on Skystra come with a free and automatically installed SSL Certificate. This means communication between the visitors that is visiting your website and the server is completely encrypted for free. You will get a padlock on all your websites that are hosted with Skystra, which gives visitors the confidence that their data is secure.
What is Skystra?
Skystra is an independent hosting provider and since its inception it has acquired a substantial share in the market. It is making headways in the hosting market with a promise of offering top-notch services at a fair price.
The word independent implies that they are not depending on any other web hosting chain or conglomerate. They offer hosting services at a fair price with many included features.
Their WordPress Plans start at $3.89/month for 1 WordPress website. If you have an existing website they will migrate it for you for free.
This gives both new and advanced website owners the ability to have their website hosted on a fast performing web platform for a decent price.
Keep in mind that all visitors on your website are potential buyers of the products that you are selling or the services you are offering. So it is always very important that your website is well optimized and your hosting makes it run fast.
Pricing:
The Skystra WordPress plans have three categories: Go, Plus, and Max. You can choose whichever suits your needs best.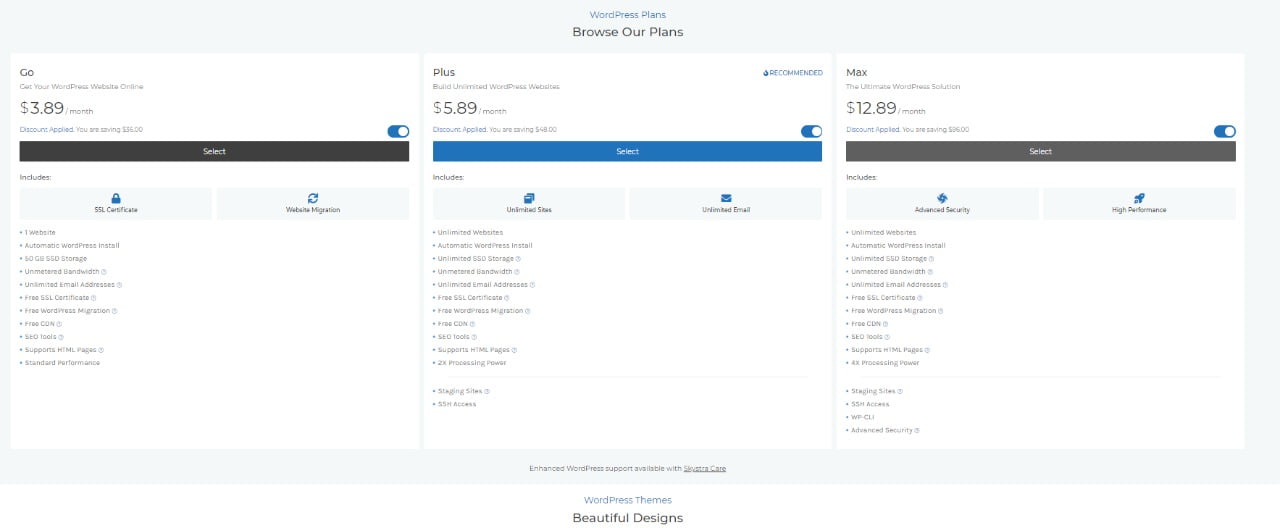 Skystra WordPress plans start at $3.89/month
Meanwhile, Skystra's WooCommerce plans are as follows: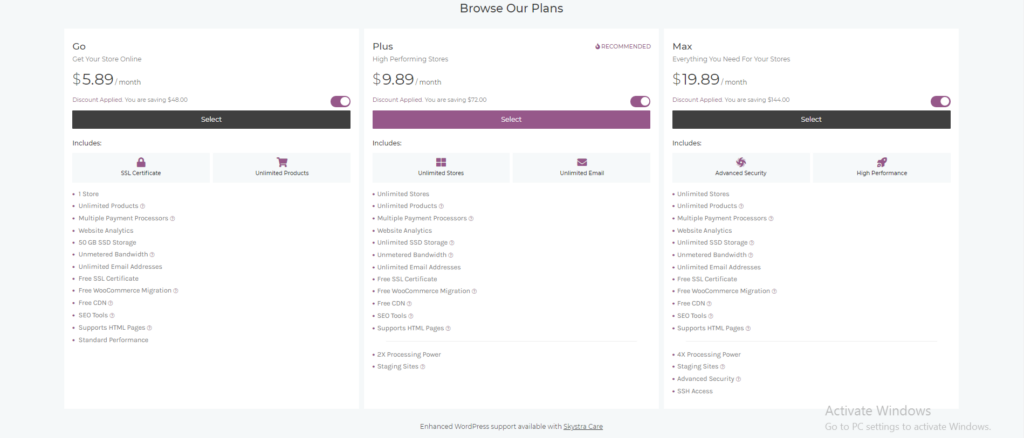 Skystra WooCommerce plans start at $5.89/month
Skystra Host Review – Features
If you are considering hosting with an independent hosting company Skystra might just be what you are looking for. By the way, if you have not visited this beautiful website I would suggest you visit it. You will find it very charming and its visual aesthetic definitely inspiring if you're building a new website.
8 Reasons to start a website with Skystra
With Skystra you get unlimited web space, unlimited visits and free migrations for all of your sites.
Here are 8 more reasons why I recommend Skystra as a great hosting option.
1. All the necessities included
No matter which of their hosting plans you choose, you will get free SSL certificates, unlimited email addresses and free CDN integration.
2. You get a lot of web space
Skystra offers its customers a good amount of storage. The intro Go plans include 50GB and all Plus and Max plans include unlimited storage.
3. Fast, high-quality hardware + network
All of Skystra servers are powerful machines maintained by professionals. It provides full SSD hosting, powered by the Cloud.
4. Free WordPress migrations
As a Skystra customer, you get a free WordPress website migration, where a Skystra migration expert will move your website from any other host to Skystra for free.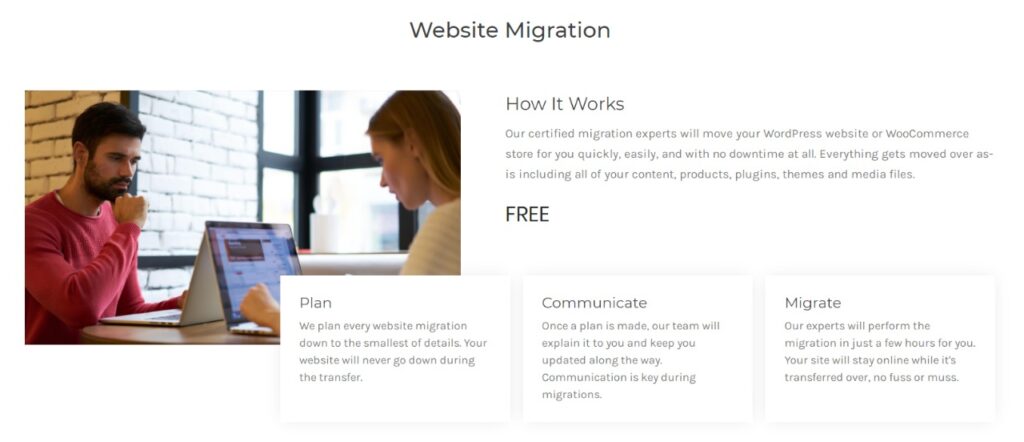 Skystra offers free WordPress website migrations.
5. Amazing customer service
I reached out to the Skystra customer service team with quite a few WordPress questions and got excellent customer service with a completely undivided attention from their support team. Nowadays, this is quite rare when it comes to web hosts.
6. Free CDN Integration:
Along with other appealing features, Skystra has free CDN (Content Delivery Network) integration which helps minimize the physical distance between users and the server. This renders a faster website.
7. Premium Caching
Skystra has a unique premium caching tool that can improve your website speed on any WordPress website by up to 125%. During our internal tests using their premium caching, we definitely saw a big boost in speed. At only $2.49/month, this optional add-on gives a lot of value without the huge price.
Boost your WordPress website speed with premium caching by Skystra, starting at $2.49/month
8. Automatic Daily Backups
Never again, worry about losing your website files, Skystra creates daily backups of your account which includes your website and emails hosted with them.
Conclusion: With Skystra's hosting services, you can create a website just as you want to at an affordable price. Skystra provides services such as WordPress Hosting, WooCommerce hosting, email hosting, and much more. Skystra also provides its customers with solutions like daily backups, premium caching, website migration, and security. With Skystra, website hosting is easy and good value!
Published By The Pi Solutions
Learn More About Latest News