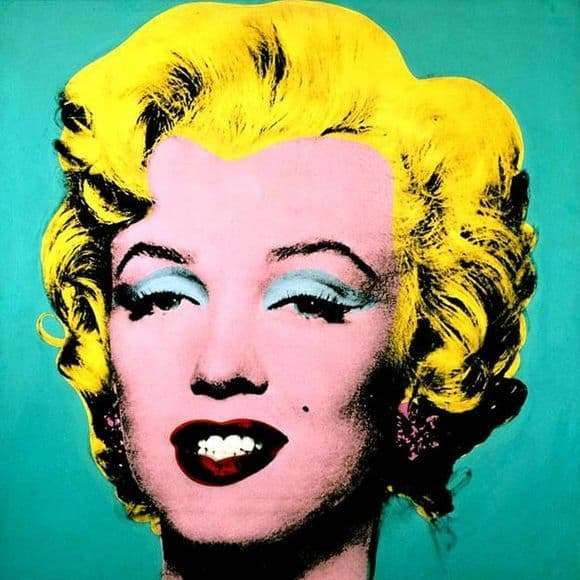 On Monday, Christie's sold a famous Andy Warhol silkscreen of movie actress Marilyn Monroe for $195 million, making it the most expensive American artwork ever sold.
The sale of the artwork, titled "Shot Sage Blue Marilyn," started off two weeks of auctions in New York that are estimated to raise more than $2 billion when dozens of pieces of art are sold.
According to Christie's, Warhol was predicted to sell for more than $200 million, breaking the previous record for a 20th-century artwork sold at auction, held by a Jean-Michel Basquiat painting of a skull sold for $110.5 million in 2017 at Sotheby.
Collectors regarded "Shot Sage Blue Marilyn," created in 1964, as a prize due to its striking hues. Monroe's face is recast in vibrant pink, with candy apple red lips and bright yellow hair, and placed against a sage-blue backdrop, based on a publicity image from the 1953 film Niagara.
It got its moniker because performance artist Dorothy Podber persuaded Warhol to photograph a stack of silkscreen images of Monroe in his workshop. Warhol imagined she intended to shoot the pictures and consented, and Podber instead pulled a revolver from her purse and fired at the pictures.
The image was won by dealer Larry Gagosian, albeit it was unknown on whose behalf he was bidding. The piece was sold from the Thomas and Doris Ammann Foundaticollection in Zurich. Doris Ammann passed away last year, and her brother died in 1993.
In 1986, Gagosian sold the silkscreen picture to Ammann.
The Ammann's were well-known modern art collectors. According to Christie's, the sale proceeds will support a newly founded organization that offers healthcare and educational initiatives for youngsters.
Other pieces by Warhol, Basquiat, Cy Twombly, Francesco Clemente, and Robert Ryman were featured in the sale. A painting by Ann Craven, a New York-based artist, sold for $680,000, exceedingly above the estimate of $20,000-$30,000.
Guillaume Cerutti, CEO of Christie's, said he was "thrilled" by the transaction. But it was clear from the start that a bidding battle for a piece valued near the top of the art market would not take place as it did four years ago when Christie's sold Leonardo da Vinci's "Salvator Mundi" for $450 million after 19 minutes of bidding.
The Warhol was volleyed carefully between a few bids, with the hammer falling in less than four minutes at $170 million. Fees paid to the auction house increased the job's total price to $195 million.
The painting was not accompanied by a guarantee, as is customary with eight- and nine-figure sum transactions, nor was there a price at which a third party would agree to purchase the work if bidding did not achieve a minimum value.
Marc Porter, Christie's Americas chair, said: "We needed to put a price out there." It could be anything, and I feel it's worth whatever someone pays.