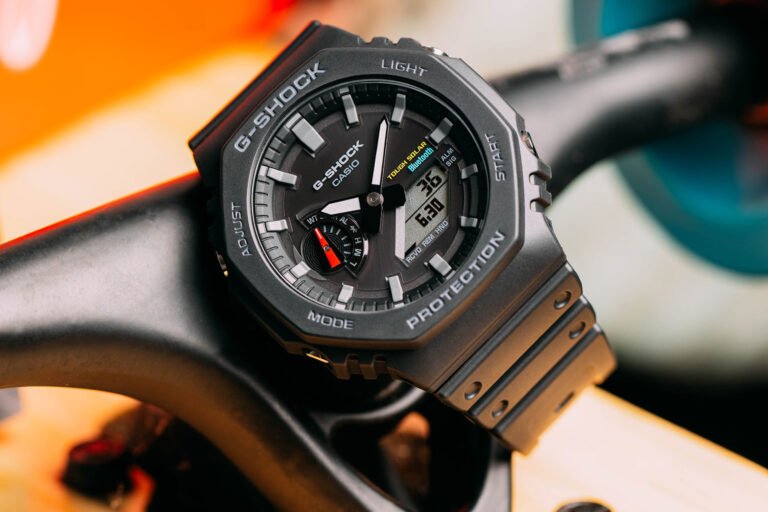 Casio has introduced a new model in the G-Shock 2100 series that retains the octagonal design but adds a Bluetooth connection. Don't dismiss the new G-Shock GA-B2100 as merely a new color palette; this is a significant improvement to the incredibly popular octagonal GA-2100 watch. Casio has added desired technology in the form of Bluetooth connectivity and solar charging to give it high-tech appeal, and we expect that this watch will end up on a lot of wrists.
The GA-B2100 also has solar power, is a member of the brand's Carbon Core series, and is available in retro-inspired colors.
The design of the original GA-2100 was influenced by the first G-Shock watch to hit the market, Casio's DW-5000C, thus its update has a distinctly 90s vibe. That's mirrored in three of the five available colors – blue, yellow, and green – which stand out just as much as the hefty bezel.
The Bluetooth connectivity allows the watch to sync with the Casio Watches app, where the time is automatically adjusted and alarms and timers may be set. It's also simple to add a place for the global time, and there's a phone finder. While the GA-B2100 won't compete with the Apple Watch in terms of functionality, it does make utilizing basic functionalities easier and faster.
The G-Shock GA-B2100 may be connected to a phone using Bluetooth and Casio's Smartphone Link technology. It allows the watch to track the correct time, switch time zones depending on 300 cities, make reminders, and even locate your phone or watch using the other.
When exposed to a suitable quantity of light, the Tough Solar feature allows the watch to continue to function. With average use, it may endure for roughly seven months on its rechargeable battery even without being exposed.
The G-Shock GA-B2100 will be available for purchase soon at g-shock.co.uk. Prices begin at £130.
Looking to return to the glory days of the 1990s, when life seemed less… complicated? Casio's newly announced G-Shock may be the ideal wrist-worn amulet to stave off the existential dread. At least for a little while.
The GA-B1200 series maintains the octagonal spirit of its predecessors while adding a touch of modernity in the form of built-in solar charging (through artificial and natural light), which can charge up with a full day's worth of power in only eight minutes without the use of a battery. Bluetooth connectivity is also a plus, allowing for automatic time updates as well as the ability to locate a missing phone with the push of a button, prompting it to ring even if it's on quiet.
Although being the lightest G-Shock ever (with a light build to match), it preserves the brand's trademark durability owing to its Carbon Core Guard build — a combination of fine resin and carbon fiber. It's water-resistant up to 200 meters and has standard features like day, week, and date displays, as well as a countdown timer and an illuminated display for viewing in low light.
It costs £130 and comes in five different colors, including blackout and basic blue, yellow, and green. There is no release date yet, but you may sign up for additional information straight from Casio.