Injured Serena Williams, She was in Pain and Tears, Exits Wimbledon With a Leg Injury. Since the 2017 Australian Open, Williams has been on 23 Grand Slam championships – yet her past two visits to Wimbledon went to the finals. Day two of the women's tournament was shockingly bad, with two consecutive retirements on center court. Seven-time champion Serena Williams was the most recent casualty, as she slipped midpoint while three one up on Alexandre Sasnovich, apparently injuring her left ankle, including her Achilles. At first, it didn't appear to be too bad because Serena didn't fall on the court or yell out in pain, but after that, it became apparent that something was wrong.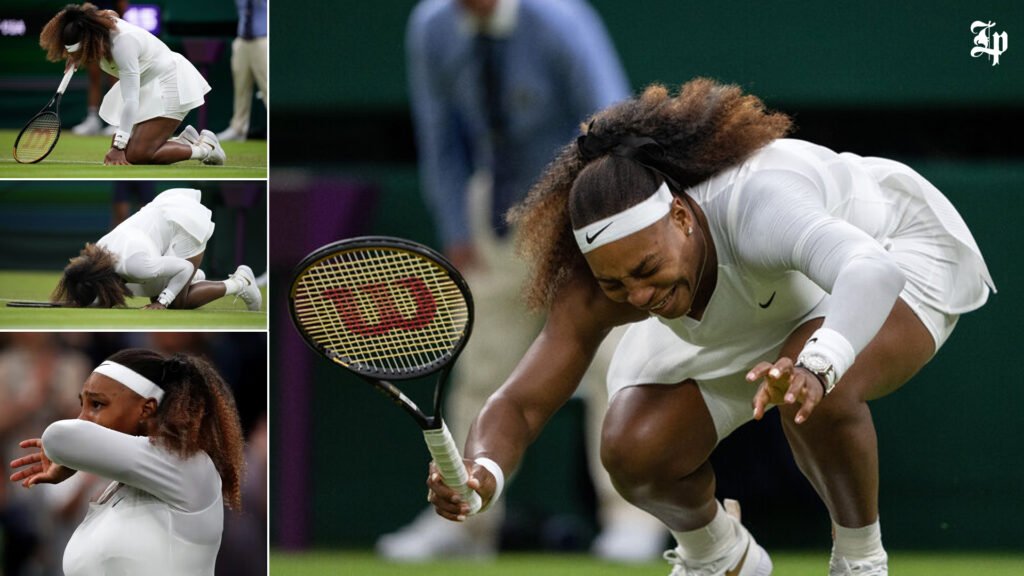 She didn't look the same in that game, losing the following few points, then limping to her chair and calling for the trainer. She was torn when going off the court, and people immediately assumed it was over, but I had some hope when she returned to give it another go. Unfortunately, the pain was too much for Serena, and she collapsed on the court.
This is quite possibly the worst thing I've ever seen live in sports; it's simply heartbreaking because you could see how determined and hungry Serena was for this woman entitled. Patrick, her trainer, was always telling her how hard she was working, and you could tell she was playing well in this matchup until the injury when she came out in the cape and smacked the winning kiss, so it's sad she didn't realize her full potential this year at Wimbledon.
Williams did take to Instagram to give a statement to fans after not giving a press conference
saying
"I was heartbroken to have to withdraw today after injuring my right leg. My love and gratitude are with the fans and the team who make being on the center court so meaningful. Feeling the extraordinary warmth and support of the crowd today when I walked on – and off – the court meant the world to me."
Serena's retirement means she's out of the top 10 because she had to defend finals points from 2019. She's currently ranked 16th in the live rankings. I'm not happy with Wimbledon and then making those social media posts saying, oh, it's a shame Serena got injured because it's upsetting, and it's honestly their fault. The match preceding Serena's was between Roger Federer and Adrian Mannarino, and the Frenchman Mannarino slipped and fell. Mannarino was up two sets to one, taking advantage of Roger's poor play with some excellent shot-making of his own. The fall, of course, halted things as Mannarino couldn't serve or move with the injured knee.
It's a pity since he was making a comeback in the fourth set and had a chance to beat Roger for the most significant moment of his career, but the hazardous conditions prohibited such circumstances. I believe that all of this might have been prevented because Novak fell several times on the first day of play, indicating that things were very hazardous.
References:
Koons, Zach. "Look: Serena Williams Reacts To Disappointing Injury." The Spun, 30 June 2021, Injured Serena Williams
Learn More About Latest News