The new official main trailer for Dune has been released by Warner Bros., featuring several House Atreides members. Based on the same-named book, the film stars Timothée Chalamet as Paul Atreides, the son of a Duke who is destined to become a leader and save the people of Dune, aka Arrakis.
The teaser concentrates on the numerous House Atreides members. Still, we also see several Fremen, Dune residents, and villains like Dave Bautista as Glossu Rabban and Stellan Skarsgard as Baron Vladimir Harkonnen. It also has magnificent scenery and a soundtrack that makes me think of Wonder Woman and sword and sandal epics like Troy.
The new trailer begins with Chani (Zendaya) giving a tour of her desert world, Arrakis, detailing how the empire plundered the country for its natural resource, Spice, and how her people fought back. Because Spice is required for interstellar travel, it is the most precious resource in the known cosmos. House Atreides, commanded by Leto (Oscar Isaac), takes control of Arrakis in the film.
From Legendary and Warner Bros., Dune is the first installment in a two-part adaptation of Frank Herbert's famous novel, which has been credited with inspiring works such as Star Wars. Rebecca Ferguson, Josh Brolin, Sharon Duncan-Brewster, Jason Momoa, Javier Bardem, Dave Bautista, David Dastmalchian, Charlotte Rampling, and Stellan Skarsgard plays the evil Baron Harkonnen, also star. Jon Spaihts and Eric Roth wrote the script.
About Dune
"Dune," a mythological and emotionally packed hero's journey, recounts the narrative of Paul Atreides, a smart and gifted young man born into a tremendous destiny beyond his comprehension, who must travel to the most hazardous planet in the cosmos to secure the future of his family and people. Only those who can overcome their fear will live as nefarious powers clash over the planet's sole supply of the most valuable resource in existence—a commodity capable of unlocking humanity's ultimate potential.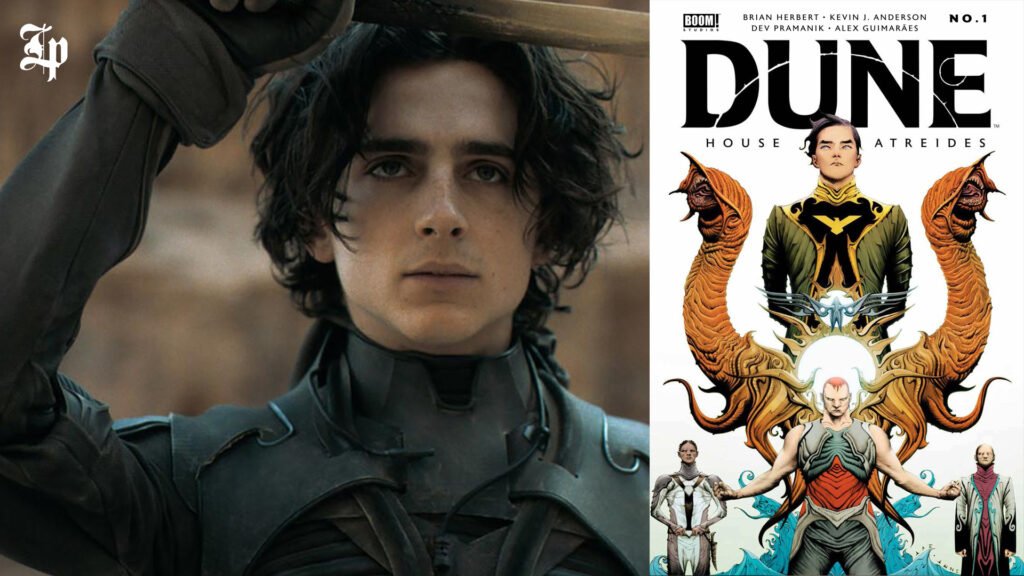 Director and Cast
Denis Villeneuve (Arrival, Blade Runner 2049) directs the adaption of Frank Herbert's Dune from a screenplay written by Jon Spaihts, Villeneuve, and Eric Roth.
The Star-Studded Cast :
Timothée Chalamet ("Call Me by Your Name," "Little Women")
Rebecca Ferguson ("Stephen King's Doctor Sleep," "Mission: Impossible – Fallout")
Oscar Isaac (the "Star Wars" franchise)
Oscar nominee Josh Brolin ("Milk," "Avengers: Infinity War")
Stellan Skarsgård (HBO's "Chernobyl," "Avengers: Age of Ultron"),
Dave Bautista (the "Guardians of the Galaxy" films, "Avengers: Endgame")
Stephen McKinley Henderson ("Fences," "Lady Bird")
Zendaya ("Spider-Man: Homecoming," HBO's "Euphoria")
Chang Chen ("Mr. Long," "Crouching Tiger, Hidden Dragon")
David Dastmalchian ("Blade Runner 2049," "The Dark Knight")
Sharon Duncan-Brewster ("Rogue One: A Star Wars Story," Netflix's "Sex Education")
Oscar nominee Charlotte Rampling ("45 Years," "Assassin's Creed")
Jason Momoa ("Aquaman," HBO's "Game of Thrones")
Oscar-winner Javier Bardem ("No Country for Old Men," "Skyfall").