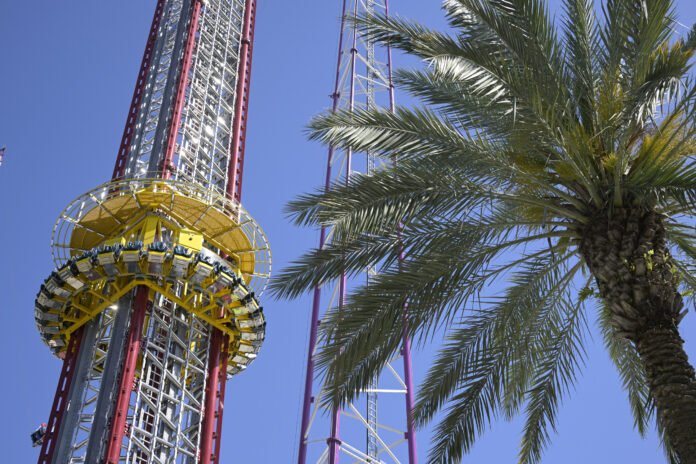 According to the Orange County Sheriff's Office, the 14-year-old kid who died after falling from the Orlando Free Fall attraction at ICON Park has been identified (OCSO).
Investigators say that just after 11 p.m. Thursday, they were called to the park as witnesses present at the scene reported that a 14 years old boy fell from the freefall ride in Orlando.
The teen has been identified as Tyre Sampson during a press conference conducted by Orange County Sheriff John Mina.
"It appears to be a terrible tragedy," Mina said. "Our thoughts and prayers are with the family."
Tyre Samson was visiting the Icon Park in Orlando from Missouri with a friend's family.
The ICON Park released the following statement on Friday night,
"The ICON Park family is in mourning tonight as a result of Tyre Sampson's tragic death. We send our sincere condolences to his family and friends. ICON Park is dedicated to providing a safe and enjoyable environment for families to spend precious time together.
"We are working closely with law enforcement and regulators and will continue to do so."
The Free Fall, billed as a world-record-breaking experience, debuted in December of last year. Riders are lifted into the air and then dropped at 75 mph, stopping 45 feet from the earth. The adolescent then slid out of his seat.
The probe is "in its very early stages," according to the OCSO. Sampson was brought to the hospital following the accident, where he died from his injuries, according to deputies.
During Friday's news conference, Mina highlighted that his agency's responsibility was to assess whether or not the occurrence was an accident, but that "it seems to be a tragic tragedy." At this time, no criminal charges have been filed.
John Stine, director of sales and marketing for the Slingshot Group, which owns the Orlando Free Fall, was at ICON Park early Friday morning and stated the youngster was safely seated in the ride's seat.
"Yes, indeed (he was secured in the seat). That's all we know for now. So, once again, we run the ride with all of the necessary safety procedures in place, and this is why we're doing an investigation "According to Stine
Ken Martin, a Richmond, Virginia-based amusement ride safety inspector since 1994, believes it's critical that coasters have secondary — or redundant — safety measures in place.
The Free Fall ride at ICON Park features only one safety feature: a strap that pulls down over the rider's chest.
"On a trip like this, we'll typically have not just the over-the-shoulder restraints, but also a strap that links at the bottom of that restraint and clicks into the seat itself, similar to a seatbelt," Martin explained. "Having a redundant safety device is always a smart idea," says the author.
According to Martin, some rides even feature a third safety measure, such as a lap belt. But there's only one at ICON Park's drop ride, and there's no national regulation demanding anything else.
According to Martin, amusement park rides are mostly self-regulatory, while Florida is one of the few states with "quite good" ride inspection regimes.
Florida approved legislation in 2020 to tighten the state's amusement ride oversight, which falls under the Department of Agriculture and Consumer Services (DACS). The bill increased the maximum fines DACS may levy on amusement park operators from $2,500 to $10,000 per infraction. DACS can sanction park owners $10,000 or more if a violation leads in serious injury or death.
The amended Florida legislation also gives DCAS subpoena power and makes refusing to testify in response to such subpoenas a criminal.
Nonetheless, the lack of a national regulating organisation to regulate amusement park rides is a major issue, according to Martin, especially because thirteen states currently lack any kind of amusement ride laws.
"This lack of sufficient control is akin to a fox protecting the henhouse," Martin explained. "It's unfortunate that this is the case because no two states or amusement rides are governed in the same way." We have consensual norms that the majority of people follow, but they are not laws."
According to Martin, the industry norm is to build rides that can sustain people weighing up to 180 pounds and children weighing up to 90 pounds.
According to him, the more negative G force created by a rider, the more negative G force is generated.
"If you have negative 2 Gs, multiply 200 pounds by 2, and you'll have 400 pounds of pressure pushing against that ride and everybody in that ride."
Mayor Jerry Demings of Orange County also expressed his sympathy and asked that the disaster be investigated.
"I extend my heartfelt condolences to the family of the 14-year-old child who tragically died at Icon Park. I'm hoping to learn more about what happened during the incident and what will be done to avoid it from occurring again "In a news statement, he remarked.
The park must provide a verbal and written report to the state's Department of Agriculture, according to the department.