London weather: Tornado heralds weekend washout before sizzling 25C heatwave next week UK Weather Forecast.On Friday, Londoners were subjected to heavy rain and even a tornado, ahead of a 25-degree heat wave the following week.
Residents in Barking, east London, captured what seemed to be a tornado on social media as high winds swept across the area.
Police from Barking and Dagenham said they were alerted at 7.20 p.m. to "reports of damage to roofs, electrical equipment, street furniture, and vehicles" in what they described as a "weather-related incident including a lightning strike."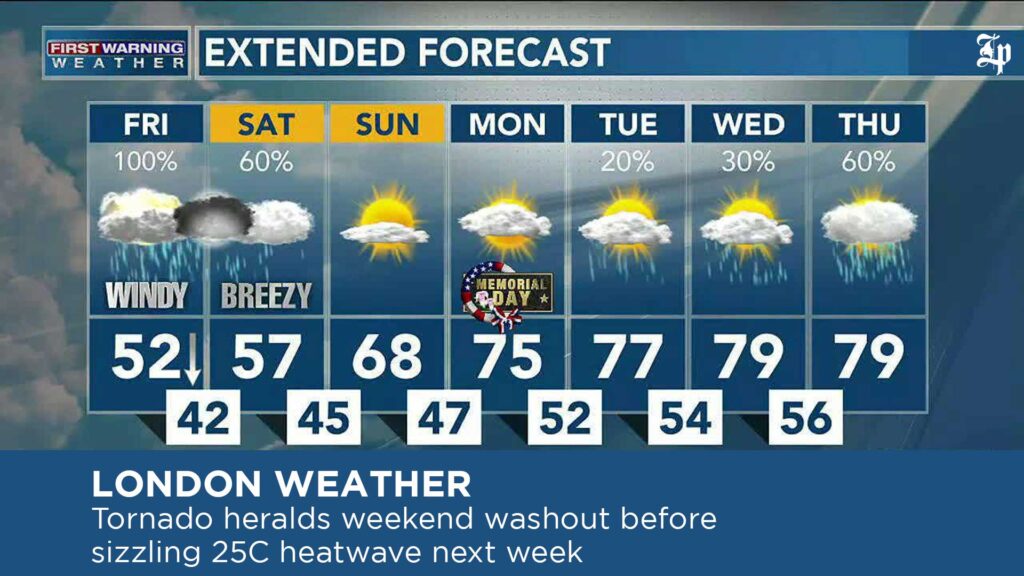 "There have been no reported casualties. Officers are working with the local government to ensure that anyone who has been harmed by property damage receives assistance."
"We're aware of the severe weather damage in the Barking region and our rapid response team, together with the police and fire brigade, are on standby to fix any concerns," Barking and Dagenham Council tweeted.
"It is likely that a short tornado occurred," stated Matthew Box of the Met Office.
A tornado requires a number of meteorological criteria, including a funnel of cloud that reaches the ground, all of which have yet to be proven by scientists.
"The accompanying thunderstorms generated some extremely heavy and impacting rain over portions of north and east London and Essex, causing flooding and transport disruption," Mr Box explained.
It's possible that some areas received more than 40mm of rain in an hour.
Mr Box went on to say that none of the Met Office's stations captured the wind connected with the incident, owing to the fact that "it was on a small scale compared to the event."
"There were really destructive winds for those impacted," he added.
On Friday evening, the Met Office issued a yellow thunderstorm warning, which lasted until 11 p.m.
Mr Box stated that on average, 35 tornadoes occur in the United Kingdom each year, each of which may cover "tens to hundreds of metres" but not on the same magnitude as those found in the United States.
The Met Office has forecast a dreary weekend in the south of the UK, as well as in the capital, with overcast skies anticipated on Saturday and Sunday.
However, following a weekend downpour, temperatures in London are expected to soar to a scorching 25°C.
July is off to a good start, with the British capital expected to see scorching temperatures.
The high pressure system from western and northern Europe will bring scorching temperatures next week.
According to The Sun, heat maps across the UK indicate highs of over 30°C in July, with London hitting 25°C.
The sun will shine brightly at Wembley Stadium for England's Euro 2020 qualifiers, and football players will compete in temperatures of 23 degrees Celsius. Temperatures will continue to increase across the country this week.
Learn More About Latest News