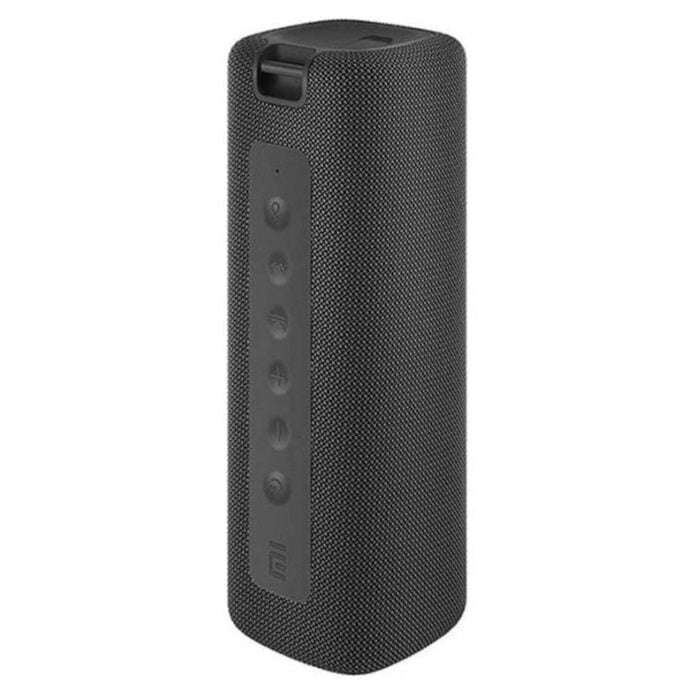 If you're a huge fan of Xiaomi, and you're trying to decide which speaker to buy. I have three of these for three different sorts of people, and they are all available for less than US$70 apiece. Also, the really kind staff at the Mi Store let me play with these, so please do me a favor and check out their social media accounts.
Exterior and design
Starting off, let's talk about the Xiaomi Portable Bluetooth speaker. Its body is mainly matte plastic and has some fabric on top to conceal the speaker, and it is roughly the size of a can of tuna. The rubber used for the base's construction is sticky and performs a fantastic job of clinging to surfaces.
The only button on this speaker is the power button, located right in the middle at the bottom. There is an orange loop that only makes it easier for you to carry it or hang it from objects like your bag, a window, or a ceiling hook. Avoid asking.
The USB-C connector, which you may use to charge the speaker, is hidden by a rubber cover that is located below this practical loop. A cable is also provided in the package. Nicely done. The LED indicator light is located on the other side. This will let you know what's going on with the speaker, including if it's in pairing mode, whether the battery needs to be replaced, whether a call is coming in, and more.
It has IP67 dust and water resistance, making it capable of withstanding some harsh riding. Additionally, it enables stereo pairing, allowing you to couple two of these together to double the noise or to mimic stereo separation of the left and right channels when watching or listening to music. Your entertainment is more immersive as a result.
Pairing and controls
Simple to pair. Simply switch it on, look for it using Bluetooth on your phone, tablet, or laptop, then click a couple when it appears. The power button may be used to answer or stop calls and pause or play your music with just one touch. A long button press turns the speaker on or off, while a double push will either silence an active call or activate the Truly Wireless Stereo mode, allowing you to connect an additional speaker for the previously stated wireless stereo.
Sound performance
The audio is of decent quality. Although not an A+, it is still an A. The frequency range is respectable, and the mids and highs are well characterized. Therefore, it performs a great job while viewing something with conversation or listening to symphonic recordings with lots of instruments.
The low end is where it falls short. Although there is some bass, the low-end is not strong enough to give you the gratifying rumble in bass-heavy tunes like HipHop or Amapiano. Even at maximum level, the sound quality remains mostly unaltered with only slight distortion.
It works well for casual listening. And while it can adequately fill a typical-sized room, it lacks the strength and bass to illuminate bigger spaces or outdoors.
It's ideal as a louder, better speaker for your laptop or smartphone to improve your experience with music or videos. It's an excellent speaker that may liven up the dorm room on the weekends, even for students. Although the battery life is not explicitly stated on the packaging, I would guess that it will provide 5 to 6 hours of music played at roughly 50%.
Pros
Sounds good
USB-C is dust- and water-resistant.
Excellent construction and design, especially in black.
authentic wireless stereo
Cons
BT is the sole feature (No aux, SDcard, FM tuner)
At $25 US, it's on the pricier side.