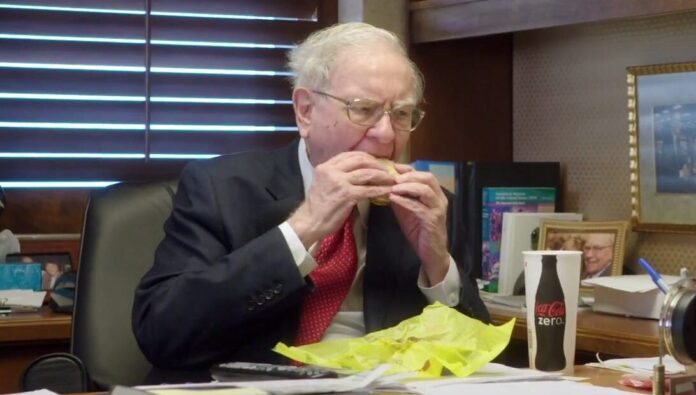 Investing legend Warren Buffett is worth an estimated $86 billion, which makes him one of the richest people in the world. But you'd never know it from his lifestyle and of course from his diet. In this video we are going to tell you about Warren Buffett's Diet that has gotten Him to 91
The five-bedroom Omaha, Nebraska, residence that the 91-year-old billionaire purchased for $31,500 back in 1958 is still his primary residence. And his breakfast costs are always $3.17 or less.
Buffett defines this as going to work, which Warren refers to as a "vacation every day," and dining at least three times a week at McDonald's.
In a three-hour interview with the Financial Times, one of the richest men in the world and the CEO of holding company Berkshire Hathaway revealed his peculiar lifestyle choices. Buffett told FT Warren had no plans to retire, despite the fact that he needs to wear a hearing aid and avoid driving after dark due to his older age. Warren still "jumps out of bed" to leave for work, nonetheless.
Buffett consumes McDonald's chicken nuggets three times per week and consumes Coke to make up a quarter of his daily caloric intake. The CEO told the Financial Times, "I'm not worried by the notion of my death.
The Oracle of Omaha isn't hesitant about discussing his odd diet. Buffett's diet consists primarily of junk food and soda, with relatively few veggies. Buffett consumes five cans of Coca-Cola products every day, as well as Dairy Queen ice cream and See's Candies, in addition to McDonald's.
Former Wells Fargo CEO John Stumpf once stated that every time Buffett uses a salt shaker, "it's a snowfall."
Buffett stops at McDonald's on his five-minute commute to work, something he's done for the previous five decades, and orders one of three items: two sausage patties, a sausage, egg, and cheese, or a bacon, egg, and cheese.
In 2017, HBO aired the documentary Becoming Warren Buffett, which included a sequence in which Buffet claims to spend $2.61, $2.95, or $3.17 at McDonald's every morning. But does this thrifty nonagenarian billionaire eat McDonald's every day?
Warren Buffet does not eat McDonald's every day, but he does eat it frequently. Buffett himself claims to eat breakfast there every morning on his way to work and to consume the restaurant's Chicken McNuggets at least three times a week for lunch. He also consumes five Coca-Colas every day.
It may sound a little whacky, but Buffett insists that it's true. And since he celebrated his 91st birthday on August 30, 2021, we can't really fault him for his dietary choices.
"I'm one quarter Coca-Cola," Warren Buffett says.
When he told me this in a phone call yesterday (we were talking about the death of his friend, former Coca-Cola president Don Keough), I assumed he was talking about his stock portfolio.
No, Buffett explained, "If I eat 2700 calories a day, a quarter of that is Coca-Cola. I drink at least five 12-ounce servings. I do it everyday."
He also eats Chicken McNuggets three times a week for lunch, drinks five Coca-Colas a day, and eats plenty of Dairy Queen ice cream and See's Candies. He's also a voracious consumer of salt, claiming he salts just about everything that can be salted.